Our Mission:
Tri-County Animal Rescue Center rescues needy cats and dogs and provides them with the quality care they deserve until we can place them in forever homes where they will be treated as part of the family. We are committed to preventing cruelty to animals and to helping reduce pet overpopulation by providing access to low-cost spay/neuter programs, trap-neuter-return programs, and education for the general public.
---
We are a NO-KILL facility located in the former Clarion County Humane Society building in Shippenville, PA. We can accommodate approximately 20 felines and 10 canines (depending on age and size). We are a 501(c)3 non-profit organization.
Tri-County Animal Rescue is also proud to serve as the 501(c)3 sponsor for Clarion County Humane Society Police Officer Hazel Ion. To report a case of animal cruelty, the public should call 814-229-4224.
---
Hours of Operation:
Monday: CLOSED
Tuesday: 12 pm – 4 pm  and  6 pm – 8 pm
Wednesday: 12 pm – 4 pm  and  6 pm – 8 pm
Thursday: 12 pm - 4 pm  and  6 pm – 8 pm
Friday: 12 pm - 4 pm  and  6 pm – 8 pm
Saturday: 12 pm – 3 pm
Sunday: 12 pm – 3 pm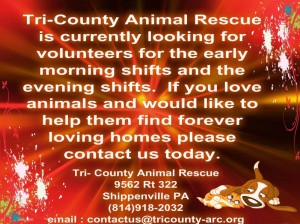 Contributions made to Tri-County are tax-deductible under section 170 of the tax code.
Employer Id #: 45-3950688
DLN #: 17053110350012