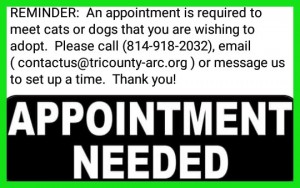 Dogs and cats can now be visited by appointment only. Please call 814-918-2032 to schedule.
An appointment must be made when a volunteer is available to show animals.
Visitation will be limited to no more than 5 people per group.
If someone wishes to drop off a donation, they should ring the door bell and leave it outside to be picked up.
If someone wishes to pick up food from the food bank, they should ring the door bell.
Thank you for your cooperation and understanding.
——————————————————————
All animals at Tri-County Animal Rescue Center will have received a vet wellness examination, de-wormer, and all scheduled vaccinations. All animals are spayed/neutered with the exception of puppies whose adopters must sign spay/neuter contract and submit a deposit.  The adoption process includes filling out an adoption application and providing references. Any current pets in the household must be spayed or neutered (unless not recommended by a veterinarian for health reasons) and current on vaccinations. If adopting a cat/kitten you must agree to not have it declawed.
If living in a rental property, we must obtain permission from the landlord before an adoption can be approved. We do not do same day adoptions. The dog or cat will be placed with the potential adopter that best matches the needs of the animal.
Click on the thumbnail image to view a full-size photo.
Our cats available for adoption!
Our dogs available for adoption!